FDA Compliance for Food Companies
Our FDA compliance service line enables you to get your products to market quickly and to maintain your FDA compliance status. mdi has helped hundreds of companies to achieve and maintain their FDA compliance. Below, you will see a list of our specific service offerings.
Product lifecycle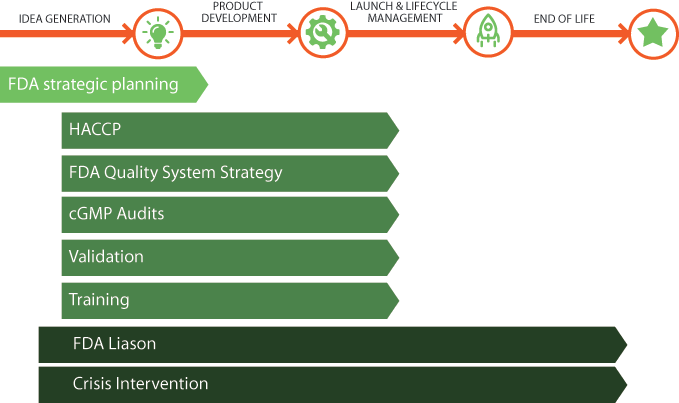 FDA Regulatory Strategic Planning What are mdi's FDA Regulatory Strategic Planning Services?
Given that we understand the product development process, the FDA submission process and the interplay between these processes, we can craft a regulatory strategy based on your situation. This strategy will include thinking through what actions you take, what you document, what submission process to take, how to structure your clinical trial, etc.
How can mdi assist you?
Many clients underestimate the economic value of a carefully thought out FDA regulatory strategy. Because of our experience and understanding of the FDA, through careful planning we can help you to:
Plan for an FDA investigation and guide you in responding to the Agency and their concerns.
Properly manage recalls. Recalls can be very costly and cause terrible damage to your reputation. Identifying and implementing actions for a recall that would be acceptable to the Agency can save money, your reputation and duplication of efforts.
HACCP
Please visit our HACCP Services page.
FDA Quality System Strategy
What are mdi's FDA Quality System Strategy Services?
Assuring FDA compliance to quality system requirements is critical for all medical companies. The quality system requirements are defined by QSR (Quality System Regulations) /cGMP (Current Good Manufacturing Practices) guidelines which are specified by the FDA.
The process by which to achieve compliance to these requirements is different for each company. For example, large companies may need to prioritize geographically-different operations based on size/importance and implement systems accordingly. A smaller company may need to prioritize which elements of the quality system to implement first) in order to get in compliance quickly.
How can mdi assist you?
Making these types of decisions requires thought and planning because these decisions will affect the speed and cost of the total implementation, potential savings that could be realized through a quality system implementation and the level of comfort the FDA will have that you are implementing a compliant quality system.
Quality System Implementation
What are mdi's Quality System Implementation Services?
There are 5 key elements to a quality system: quality manual, quality procedures, work instructions, product quality plans and production level quality records. We can help you prepare and implement the entire system for FDA QSR (Quality System Regulation) /cGMP (Current Good Manufacturing Practices) compliance.
We can supply you with a high-quality fully FDA compliant quality manual and procedures that can be customized and implemented for your operation. Our solutions include everything from management review, corrective action/preventive action (CAPA) and complaint handling. The manuals and procedures are easy to read, follow and implement with the necessary procedures and forms. We can implement them both electronically and paper-based
How can mdi assist you?
mdi has been implementing Quality Systems since 1978, and has set up over 350 companies worldwide. We can guarantee that the quality system will meet with all the FDA requirements. The systems have been continuously inspected by the FDA and have passed each and every audit for compliance to the cGMPs.
\
cGMP Audits
What are mdi's cGMP Audit Services?
We can perform a mock FDA audit of your operations to determine compliance to the FDA cGMP (Current Good Manufacturing Practices).
The audit would be performed in similar manner to a FDA audit and can be performed by former US FDA field investigators.
These mock audits serve two purposes: testing your quality system and providing recommendations for corrective actions.
How can mdi assist you?
Given that we have been officially recognized as experts by the FDA, we can provide you an audit that is the same as what you can expect from the FDA.
We have audited hundreds of the companies and helped them to go through a real FDA audit successfully.
Training
What are mdi's Training Services?
We provide FDA cGMP employee training and internal auditor training.
Our in-house training sessions include all aspects of FDA regulatory and quality system requirements including: cGMP compliance, Process Validation, FDA Strategic Planning, Dealing with FDA inspections and how to prepare replies to FDA 483 and Warning Letters.
How can mdi assist you?
We can put together customized training programs that are geared to your products and operations.
We have trained thousands of employees over the last 25 years.
Validation
What are mdi's Validation Services?
Process Validation – We can assist in the preparation of the validation protocol, implementing the validation and interpreting the data to meet with the FDA guidelines.
How can mdi assist you?
We can put together complete validation protocols as well as execute the validations for you. Contact us for more information on our validation services.
Our services comply with the FDA's Analytical Method Validation (AMV) (including, linear regression analysis, precision, accuracy, limit of detection, limit of quantification, specificity and stability indicating determinations) and Analytical Instrumentation Installation and Operational Qualifications (IQ/OQ's).
FDA Liaison
What are mdi's FDA Liaison Services?
An FDA inspection could be one of the most trying times in dealing with the FDA. Knowing what to expect, trying to interpret the FDA findings and providing immediate solutions to prevent regulatory actions could be critical to the survival of a company.
We provide ongoing support that allows you to interact with our experts throughout the year. With this service, when a FDA event occurs or a question arises, we are available to help you.
How can mdi assist you?
mdi's staff has successfully navigated numerous companies through FDA inspections both domestically and internationally where the consequences of an actionable inspection could prevent product commercialization.
Our staff of former US FDA field investigators, with over 100 years of combined FDA regulatory experience, provides a professional demeanor to the FDA visit and assists to expedite the inspection in a manner that has been proven over time.
Our regulatory experience in dealing with the FDA is unsurpassed, with successful removals of injunctions, seizures and warning letters. Please see what our clients have had to say about our services during an audit.