While many people are aware that on March 27, 2020, the Congress passed the Coronavirus Aid, Relief, and Economic Security (CARES) Act, not all know about a surprised addition to this Act: Over-the-Counter Monograph Safety, Innovation, and Reform Act.  The OTC monograph reform provisions significantly modify FDA's regulation of OTC monograph drug products, including moving to an administrative order process rather than rulemaking and allowing for the assessment of user fees.
The reform legislation represents the first significant update to federal oversight of OTC drug products since 1972.  Previously, FDA did not review and approve most OTC products in contrast to how they handle prescription drugs.  Instead, FDA published the so-called OTC drug monographs for categories of products such as cough and cold treatments, pain relievers, and a wide range of other products including sunscreens and antiperspirants. The monograph describes the active ingredients allowed, as well acceptable dosages and forms (tablet, topical, liquid) and required labeling. For as long as a manufacturer's OTC drug product fully complied with the monograph requirements, it could be marketed without FDA review or approval.
What if a manufacturer wanted to introduce a patient friendly dosage form such as a gummi or a tablet that dissolves under the tongue? Or what about combining two OTC ingredients that are allowed separately in different OTC monographs?  You might as well forget about the idea before you even had it because such dosage form or ingredient combinations are simply not in the monograph.  You'd say what about updating the monograph?  Well, under the FDA system of monograph rulemaking, you would have to wait for a really long time, sometimes decades.   An obvious conclusion is that innovation as well as patient safety are hugely impacted by such antiquated system of FDA monograph rulemaking.
The new bill enables FDA to approve OTC medicines without going through the full notice and comment rulemaking.  The reform would permit monograph changes to be made through the administrative order process that does not take years and decades.  This will incentivize companies to create innovative OTC drug products with provisions for 18 months of exclusivity for innovative OTC ingredients to reward a return on the developers' investment.
Aside from providing a new mechanism for OTC drug approval, the new bill implements the user fees for OTC drug establishments. Any drug facility identified as an OTC monograph drug facility on December 31 of the fiscal year or at any time during the preceding 12-month period will be assessed an annual fee. FDA's authority to assess and use OTC monograph fees begins in fiscal year 2021 (which kicks off on October 1, 2020). New resources collected from the user fees will allow FDA to expand staff, finalize monographs that have been pending for years, and consider updates to other monographs.
Finally, the bill requires FDA to provide an annual update to Congress regarding the agency's progress in evaluating certain pediatric indications for cough and cold OTC monograph drugs for children under the age of six.
The key provisions of the OTC monograph reform bill are summarized below. (click on the image to enlarge)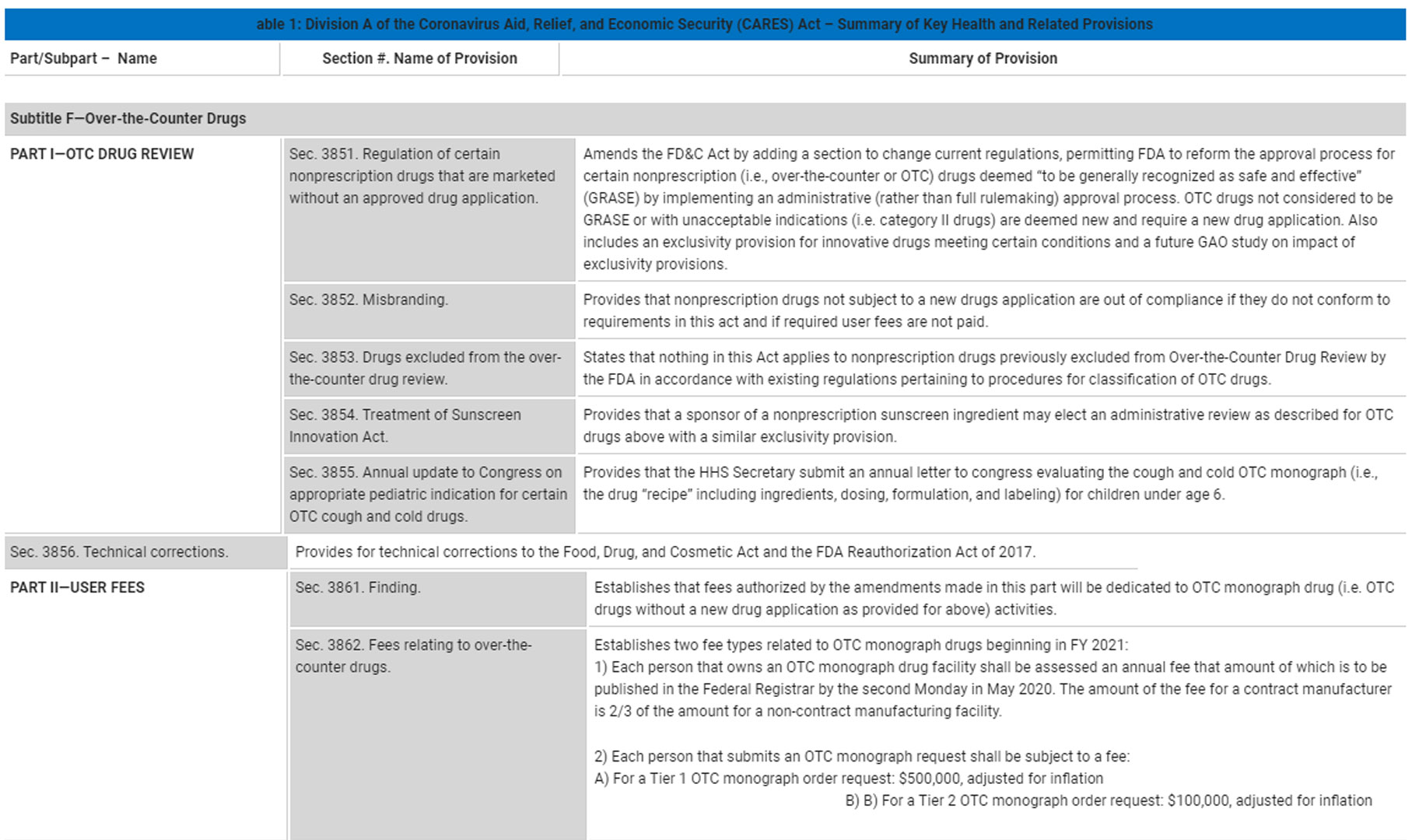 Clearly, all existing and potential OTC drug manufacturers should get familiar with this bill and analyze its impact on the company operations. In particular, businesses should evaluate the non-patent market exclusivity provisions and the user fees. Know your product's existing monograph status (e.g., final monograph, tentative final monograph, proposed monograph, advanced notice of proposed rulemaking) and the GRASE category of the OTC active ingredient or combination of ingredients (e.g., Category I-GRASE or Category III-more data needed). Currently marketed OTC drugs that are in compliance with a final monograph, and those classified in Category I under a tentative final monograph, would generally continue to be considered GRASE and not be considered "new" drugs for as long as they meet other applicable requirements.
In addition, companies with products that may be classified as OTC drugs due to marketing claims, for example, cosmetics or personal care products with drug-like claims, should consider an impact assessment as well.
Finally, take note of the bill provisions specific to sunscreen ingredients covered by the Sunscreen Innovation Act (SIA) of 2014. Manufacturers that have previously received SIA orders regarding sunscreen ingredients proposed as GRASE for OTC use would have 180 days from the new legislation enactment to determine whether to continue within the SIA framework or transition to the new OTC monograph process.
mdi Consultants will continue to monitor the implementation of the OTC drug reform and will bring you periodic updates. Please feel free to reach out to mdi with your questions or concerns via e-mail at info@mdiconsultants.com and Ref: OTC Drug Reform.