Over the past 10 months mdi has been actively assisting numerous companies with the EUAs for Masks, Gowns and Gloves as well as the Covid 19 tests. Several of our clients are included in the numbers provided by the FDA below.
To look back on 2020, the FDA has released an infographic providing visualization of data about the coronavirus (COVID-19) diagnostic tests authorized by the FDA.
The infographic reads:
COVID-19 Tests and Collection Kits Authorized by the FDA in 2020
The FDA is committed to helping ensure the public has access to a wide variety of test options for COVID-19. Since the start of the pandemic, we authorized over 300 tests and collection kits, including:
235 molecular
63 antibody
11 antigen tests
Such as:
38 home collection: Tests and collection kits where samples are collected at home and sent to a lab for processing
18 pooling: Tests that process samples from multiple people at one time
17 point-of-care: Tests and rapidly return a result at your doctor's office or other health care setting
11 multi-analyte: Tests that detect the virus that causes COVID-19 and other viruses like flu
3 at-home: Tests performed at home with a self-collected sample
To view the infographic as well as to read "2020 at FDA: A Year of Unparalleled Contributions to Public Health," please visit the FDA's website.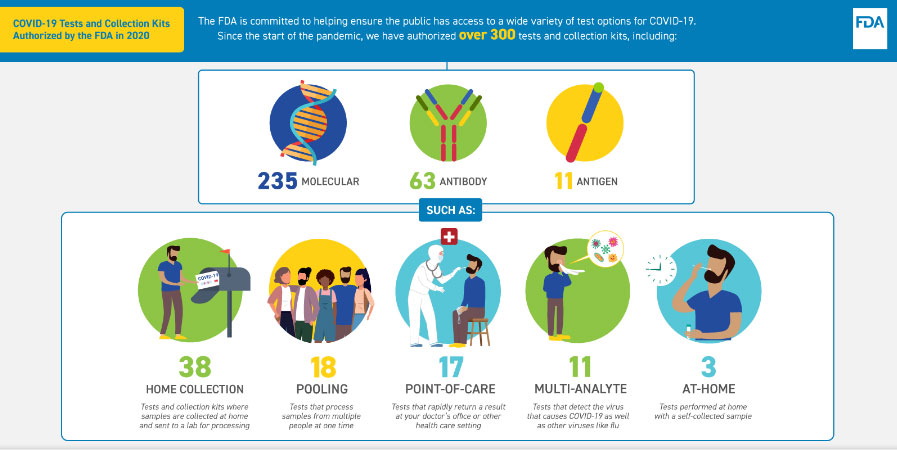 If you have any questions about the different tests associated with COVID-19 and or want to get your Covid Test through the FDA EUA process before the FDA requires a 510(k), please email mdi Consultants at info@mdiconsultants.com RE: COVID-19.